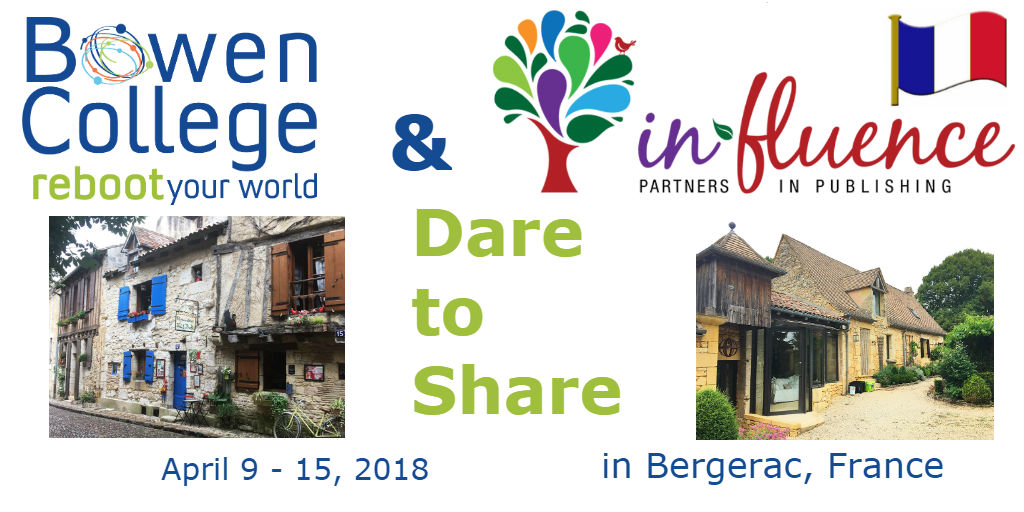 Seven Day Dare to Share – In a Book, on the stage.
Discover your Secret Source
Retreat in Bergerac, France
At Belle Maison, Lalinde, Bergerac, France
April 9-15, 2018
Only $2,997 USD includes accommodation, transport to/from Bergerac airport, daily coaching by Dr Manon Bolliger and Julie Salisbury, excursions to the Medieval French Villages, the River Dordogne, Cadouin 500-year-old Abbey and Bergerac.
To reserve your space, a deposit of $500.00 USD is required
For more information please contact Dr. Manon at [email protected]
Maison Belle
What is stopping you from sharing your story? How do you develop your own powerful brand? How do you stand out and become a Best Selling Author and/or TEDx speaker? Julie Salisbury, Publisher and TEDx Speaker partners with Dr Manon Bolliger ND to facilitate this very special 7-day retreat to help you discover your secret source.  What better river to sit by than the River Dordogne? What better sensory stimuli than a 500-year-old Abbey and church? What better café to have lunch than the cobbled streets of Bergerac where, on market day, you can sample truffles, French pastries and shop the French artisans?
Cobble streets of Bergerac
Get connected to your subject on an emotional level to connect with your audience. Explore your passion by reflecting back on your life and the events that shaped you. What part of your story compels others? Develop your ideas and what is unique about you, all the while drawing from the sensory and artistic elements around you.  There are no interruptions, no distractions.  Learn the different styles of story telling and find your idea worth spreading. Explore and examine all those ideas you've wanted to grab hold of, and focus with your whole heart on your craft.
Our daily schedule includes structured sessions on storytelling and understanding how a TEDx talk can give you a strong foundation for a book, keynote speeches, workshops, webinars, coaching, teaching and your unique entrepreneur business.  You will arrive in Bergerac with an idea and return home with a unique brand, exclusive to you.  If you want to transform that brand into a TEDx talk or a book, you will have a book or talk planned out and structured and organized into a natural narrative sequence.  You will have learned how to free your voice and stand for yourself.  You will release fear, trauma, judgement and free energetic blocks.
Every day will start with fresh croissants and pastries from the local patisserie. The schedule varies from day to day allowing for a balance of creative and coaching time, local excursions for lunch and sampling the French restaurants and bistros.  All our excursions are no more than 10-30 minutes drive, so you will have plenty of free time to explore all that the medieval villages of this area of France must offer.  All transport is in a private mini-van and you can choose to take the excursions or stay at the Maison Belle and relax by the pool or in the beautiful gardens.
You will learn how to engage your audience or reader in your compelling authentic story – and get the opportunity to practice and get feedback from your group on your speech or book.  You will learn how to influence your audience or reader on your topic and how to rebuild your idea into the mind of the audience.  You will understand the significance of tapping into shared values and desires and how to present your story in universal terms that your audience can identify with. We are wired to be connected to one another – like the roots of a tree.  How are you going to present your story so the audience is in YOUR shoes?
What is included:
Mastermind Group Sessions and Private sessions with Dr Manon Bolliger ND
Workshop/Mastermind Group Sessions step you through a patented process that uses InspireABook® worksheets, checklists and learning materials to understand the purpose, audience and content to develop for your book or speech.
Private consultation with Julie Salisbury, Founder of Influence Publishing Inc. and Founder of the InspireABook® program. If you are halfway through your manuscript, you can opt out of the formal program and receive feedback on your chapters as you write them.
Accommodations
7 Nights in a private room at Maison Belle. Each room has a queen bed and a shared bathroom located in either the private wing of the main house or in the guest gite in the grounds of the gardens.  One shared room with 2 twin beds is available and one sofa-bed is available at a discounted rate. One room with a private bath is available for couples.
Meals
7 Continental Breakfasts, coffee, tea and fresh fruit, bread, cheese and a daily soup.
All café and restaurant meals are at extra cost.
Excursions and transport included.
Pick up and drop off at Bergerac airport. Transport and guided excursions.
Please note flights are at your cost and we recommend two possible routes:
Fly direct to Paris a few days before the start of the retreat.  Catch a train to Bergerac (four hours) or fly direct with Air France (less than $100)
Fly direct to London a few days before the start of the retreat. Take a local flight with Ryan Air direct to Bergerac from London (less than $100)
Agenda
Day One – Arrive Bergerac airport – pick-up and head to writers retreat in the lovely hamlet of Llalende, a 30 min drive from the airport.  Settle into the Gite. Afternoon trip into the nearby village to check out the restaurants and buy any fresh food you want for your kitchen.
Group meeting for introductions and goals of the retreat.
Day Two – Morning for group mastermind and/or one on one sessions with Julie and/or Dr Manon. Lunch in Llalende or choose to stay at the Gite and use the kitchen.  Afternoon sessions with Julie and/or Dr Manon. Evening meal in Llalende or use your own kitchen.
Day Three – Half day trip to Cadouin Abbey and 15th Century church.  Lunch in the beautiful village of Cadouin. Afternoon sessions with Julie and/or Dr Manon.
Day Four – Morning for mastermind sessions. Picnic lunch at Trimolat, (weather permitting) next to the Dordogne river.  Afternoon sessions with Julie and/or Dr Manon at the retreat.
Day Five – Half day trip to Bergerac (market day Saturday or Wednesday) and Mombasalac Chateau. Afternoon sessions with Julie and/or Dr Manon at the retreat.
Day Six – Morning for writing and sessions with Julie. Visit Mouzac on the River Dordogne and lunch at the bistro (or take your own picnic). Afternoon sessions with Julie and/or Dr Manon at the retreat.
Day Seven – last day! Group meeting to share success and ongoing goals.
(excursions can be subject to change, depending on weather)
May 2 – 9, 2018
Julie Salisbury
Julie Salisbury is the Founder of Influence Publishing Inc and Creator and Facilitator of the InspireABook program, a sister company to Influence Publishing. Most of the authors that have been published by Influence Publishing have been coached through InspireAbook. Influence Publishing Inc has published over 100 books and made the majority of them Best Sellers. She gave her TEDx speech on the Gift of Dyslexia in Vancouver B.C.
If you would like to know why Julie founded Influence Publishing and InspireABook read HERE.
Julie has published the second updated edition of her book, Around the World in Seven Years: A Life Changing Journey
Working with Dr Manon five years ago to publish the book "What Patients don't say if Doctors don't ask" led to a realization about her own personal story and the deep meaning she had given it. Dr Manon helped her discover that her gift of Dyslexia was the reason she had excelled at making over 100 authors she published become Amazon Bestsellers. Understanding her story to this level led to her being picked to be one of 10 speakers on the TED stage in Vancouver from 250 applications. Since the TED talk, Julie has connected with many other famous Ted speakers like Richard Branson and continues to build her powerful network. Through her TEDx network, she is positioned to not only help other speakers understand what is needed to become a TEDx speaker but assist with the application process and make the connections to the TEDx management teams.
Dr Manon Bolliger
Dr. Manon Bolliger is the founder of Bowen College, retired lawyer and ND. During the past 25 years, Dr. Bolliger has treated thousands of patients, serving as department head at the Boucher College of Naturopathic Medicine since 2003 and teaching more than 1200 professional health care practitioners, including NDs, MDs, psychologists, Nurses, Homeopaths, RMTs, Chiropractors, Doctors of Osteopathy and many practitioners in the healing arts. She has been a keynote speaker at many health conferences including the World Health Conference in Paris in 2014, EWomen Network Dallas conference 2015 and SA at the Money, Wealth, Business conference in 2017. She is a popular guest on TV health shows and has appeared on CTV, ABC and NBC to name a few.
A collaborative doctor-patient relationship is key to her healing approach as a Naturopathic Physician, classical Homeopath and BowenFirst™ therapist. She helps each person understand the vital role they play in their own unique healing process so they can go beyond the diagnosis and understand how the body is communicating the emotional dis-ease in their life. Dr. Bolliger's unique L.I.S.T.E.N methodology fosters a deep dive and reflection upon our purpose, our true self, and what gifts we are here to embrace. In her collaborative work on Ted talks, she gets to the root of the unique message our life has been created to share and helps people embody their real story.
Our skills combined help YOU create the most powerful TED talk