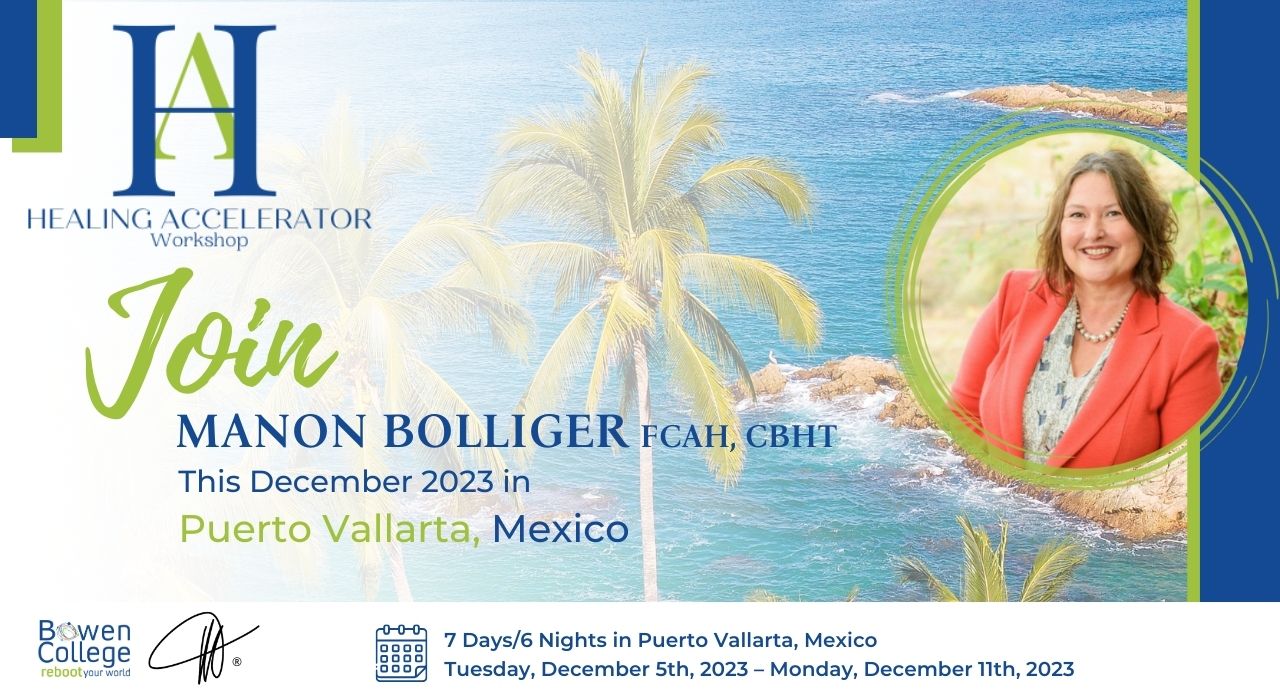 This December, ditch the snow and cold for the sunny beaches of Puerto Vallarta, Mexico while learning and experiencing BowenFirst™ Therapy!
Let's get real – What's the point of treatment if you or the clients you serve are continuing to suffer from physical and/or emotional pain, limiting the ability to fully enjoy life?
With the Healing Accelerator Workshop (HA), you will experience firsthand the power of Bowen Therapy so that not only will you be free of your pain, but you will also gain a whole new relationship with your body, yourself, and YOUR PRACTICE.
And best of all, you will give your body a chance to try a holistic, gentle, and non-invasive treatment that has impacted thousands and thousands of Manon Bolliger's patients, and thousands of her students' patients, making a real-life difference in the quality of their lives.
We only have ONE life, let's make it count!
Join Manon Bolliger in Mexico to discover how BowenFirst™ can help you, your clients, and your practice!
You won't regret it!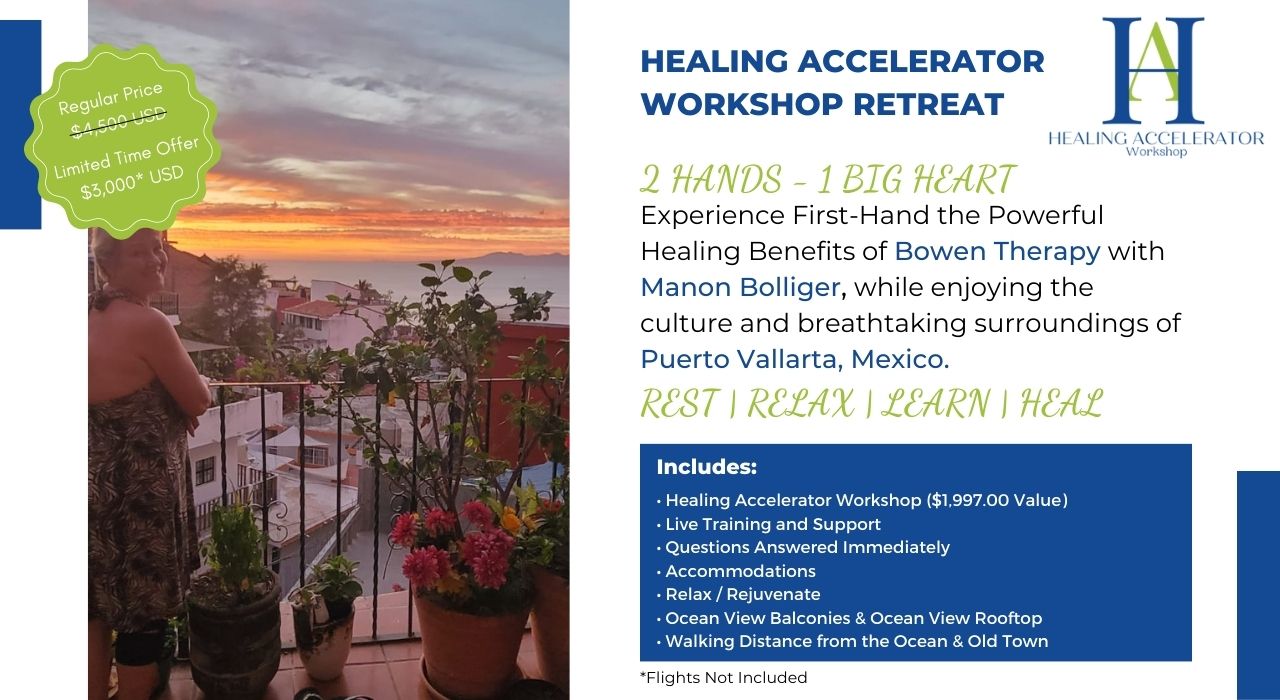 The Healing Accelerator Workshop Retreat Includes EVERYTHING* You Need to REST, RELAX, and ENJOY the beautiful surroundings of Puerto Vallarta while Learning the POWER of BOWEN THERAPY!
Healing Accelerator Workshop

($1,997.00 Value)

Live Training and Support in the BowenFirst™ Technique (Bowen Therapy)

Questions Answered Immediately

Step-by-step illustrated manual

Diagrams to complement each procedure

Photography of each section

High-quality instructional cinematography for a clear, close-up view of demonstrations and an engaging learning experience

Workbooks with charts, tables, and practice forms for each lesson

Guided step-by-step training to become proficient in the technique

Comprehensive course companion in eBook format with annotated case studies and a glossary of terms

Set up and post-treatment considerations

Facebook group support

Certificate of Completion

Accommodations at CASA DE INFLUENCIA in Puerto Vallarta, Mexico

 ($2000 Value)

Full Apartment (Shared By HA Participants)

Ocean-View Balconies & Ocean-View Rooftop

Lounge

Large Indoor Dining Area

Kitchen with Breakfast Bar

Office Space

Bathrooms

Most Meals –

Not all meals because it is always fun to go out on the town and partake in the delectable Mexican cuisine!

Southern Beach Tour & Los Arcos National Marine Park for meditation, reflection & setting intentions.

Walking Distance from the Beaches, the Ocean & Old Town
Sunset Dining
*Flights Not Included
*** Bring your partner for $997 (includes accommodation, meals & excursions) – space dependant, 1st come 1st served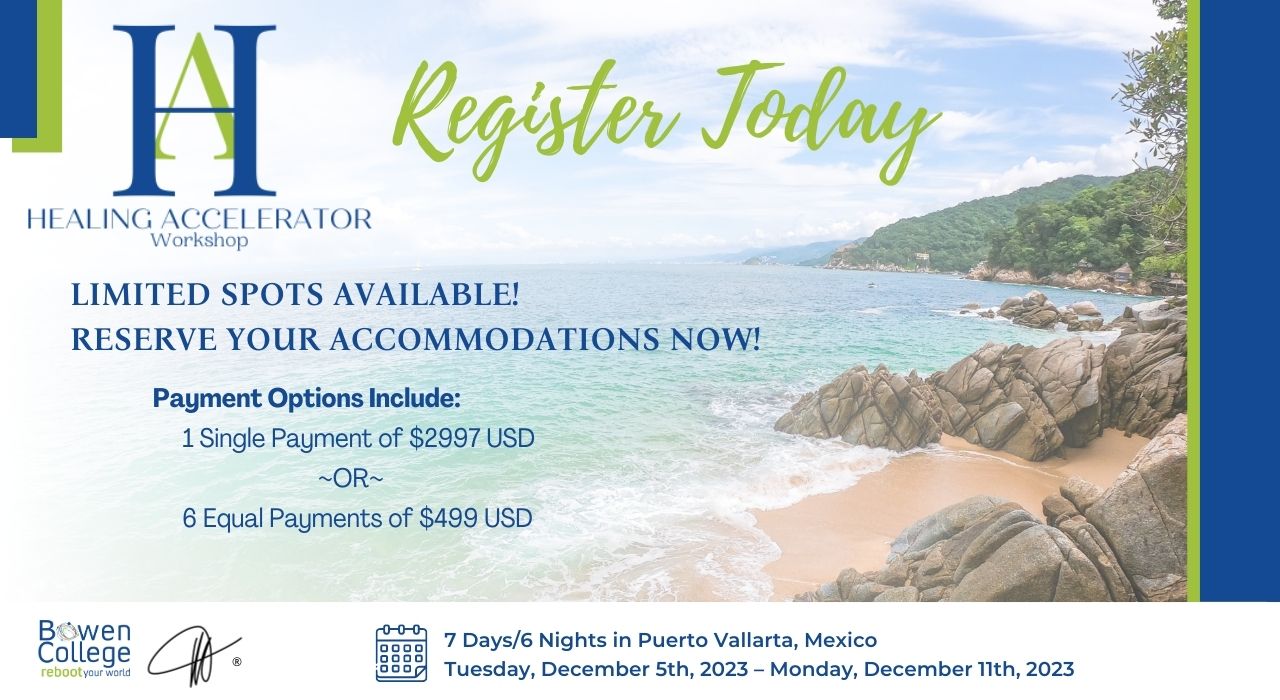 Limited Spots Available
Reserve Your Accommodations NOW!
 Deadline to register is November 1st at midnight!
Who Can Join the Healing Accelerator Workshop?
The Healing Accelerator Workshop is your opportunity to discover the power of Bowen Therapy firsthand while relaxing and rejuvenating in beautiful Puerto Vallarta, Mexico!
Open to anyone interested in discovering the power of Bowen Therapy firsthand while learning the therapy through hands-on training and individual sessions.
The Healing Accelerator Workshop is designed to give you a 'taste' of Bowen and can be easily integrated into your life and your practice giving you the skills to change both for the better.
PLUS, the Healing Accelerator Workshop is offered as a one-off and allows you to UPGRADE to the full CBHT Professional Program which will prepare you for becoming a CBHT (Certified Bowen Health Therapist).
Instruction will include: 
Basic Bowen Protocols – Lower and Upper body protocols that will help you eliminate your patient's pain and long-term issues. 
The course will include an Integration where we will review various case studies that will stress the body-mind relationship and help you to become a better healing arts practitioner. 
If you do not have Anatomy and Physiology or Functional Muscle Anatomy and wish to add these please follow the link HERE for more information.
The Healing Accelerator Workshop is also approved for up to 28 CE credits: CEBHCP & NCBTMB. Please see our website or check with your provider for a full list of our accreditations.
Manon Bolliger FCAH, CBHT will be your personal instructor for the Healing Accelerator Workshop, answering your questions, helping you discover the healing benefits of BowenFirst™ Therapy, and guiding you along your healing journey!
Prerequisites
There are no prerequisites necessary to attend, but it is beneficial to have basic knowledge of the planes of the body and/or human anatomy.  Once you have registered we will email you the first 4-modules of Functional Muscle Anatomy for you to prepare for your training. 
Please be sure to read and review the pdf as this will enhance your learning and outcomes for this workshop.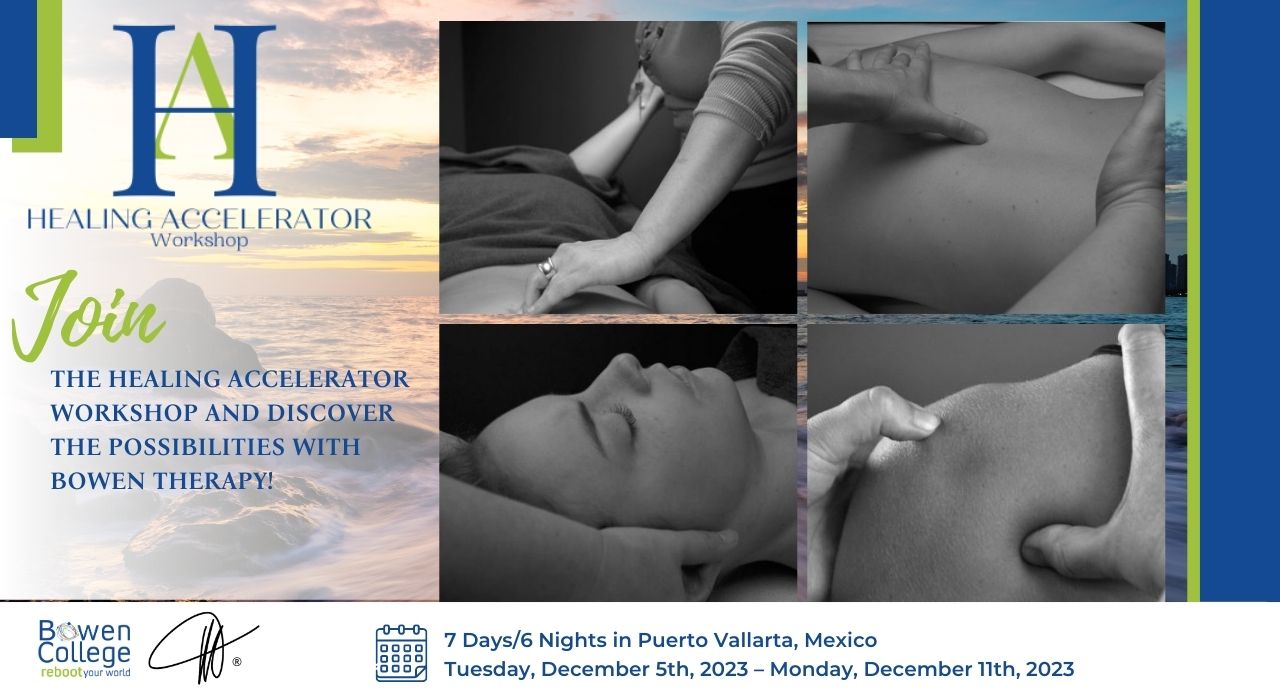 Only $2,997 USD or 6 payments of $499
*** Bring your partner for $997 (includes accommodation, meals & excursions) – space dependant, 1st come 1st served
What Is Bowen Therapy & The BowenFirst™ Technique?
Our bodies can get caught in dysfunctional pain loops that continuously fire, even when there's no longer evidence of tissue damage. By stimulating the nervous system, Bowen Therapy with the BowenFirst™ Technique breaks these loops.
This is done by stimulating the fascia (a matrix of protein that holds the body together) underneath the skin and subcutaneous fat with gentle rolling-type moves. In turn, your body responds to that stimulation by encouraging the fascia to become more mobile.
BowenFirst™ improves circulation and increases lymphatic drainage: this allows nutrients to arrive at injured tissue while reducing painful swelling.
BowenFirst™ is gentle: this relaxing technique is done on your body with zero harm helping your body to heal from the inside out.
BowenFirst™ works quickly: Most patients report a 50 – 80% improvement after three treatments and complete success after just 10 treatments.
BowenFirst™ reduces pain: due to the activation of pain-killing endorphins through the oxytocin pathway.
BowenFirst™ improves sleep and reduces fatigue: by naturally increasing serotonin and dopamine and decreasing the stress hormone cortisol.
Day 1
Puerto Vallarta – Arrival
Once you are settled into your room, you can start to explore the Old Town and the many Galleries, Artisan Stores, Boutiques & Restaurants.  5 min stroll to Malecon & Beach, the famous homes of Elizabeth Taylor & Richard Burton & the Mirador Lookout. 
We will prepare a delicious dinner for you which you can eat under the stars in our roof-top garden with a beautiful view of the ocean.  This will be a meet and great to start making meaningful connections with like-minded people and discuss healing through Bowen Therapy.   (Price includes: Dinner) Flights & Airport Transfers NOT Included
Day 2
Workshop Reboot®
After a delicious breakfast, we start the retreat with Reboot (5 hours).  This will be followed by a walking tour of the area where you can enjoy lunch on the Malecon & time to relax on the beach.  Return in time for the Pirate Ship Fireworks viewed from our roof-top & light dinner.  (Prices include: Workshop, Excursion, Breakfast & Dinner)
Day 3
Workshop Healing Accelerator Day 1
Breakfast & check in to see how everyone is doing, then we will learn more BowenFirst™ Protocols (4 hours) followed by lunch on the rooftop & an afternoon session (3 hours). Afterward, we head out for dinner & entertainment.   The newest group to bless Puerto Vallarta with its innovative & energetic presence is Media Luna, where you will experience their flamenco music as we enjoy dinner at a beach restaurant nearby.  (Price includes: Workshop, Excursions, Breakfast & Lunch)
Day 4
We depart after breakfast for a full day excursion to visit the southern beautiful beaches . We will begin at Los Arcos National Marine Park for meditation, reflection, and setting intentions for ease to present our talk to the public.  We will then make our way to explore another one of the southern beaches and eat a delicious fresh seafood lunch on the beach.

You will have the afternoon free to swim, walk the beach and relax.  During this time there will also be opportunities to privately process through any emotional concerns arising for you.  Wind down for the evening at Casa de Influencia with a light dinner. (Price includes: Breakfast & Dinner) 
Day 5
Workshop Healing Accelerator Day 2
Breakfast & check in to see how we are then we continue with more BowenFirst™ Protocols (4 hours),
After a delicious lunch back to learning more BowenFirst Therapy.
In the evening  we will enjoy dinner together and then experience a drumming circle on the rooftop while the sun sets. Playing the drums together connects us in community, opening our minds and hearts for creative expression
 (Price includes: Workshop, Excursions, Breakfast & Lunch, Dinner)
Day 6
Start the day with a delicious breakfast & check in on our roof-top with ocean view, followed by the last few BowenFirst™ protocols (5 hours).  After lunch will be free time
  (Price includes: Workshop, Breakfast & Lunch)
Day 7
Breakfast and Closing Circle, farewells and departure. Enjoy the rest of your travels with Bowen knowlege

* All information, content, and material of this website is for informational purposes only and are not intended to serve as a substitute for the consultation, diagnosis, and/or medical treatment of a qualified physician or healthcare provider.
Copyright 2009 – 2023 – Manon Bolliger, facilitator and retired naturopath with 30+ years of practice & BowenCollege.com
retired, retracted, revoked, resourceful & resolved to share with you all the tools to take care of your health & vitality!
~ we will not spam, rent, or sell your information; however, by clicking the button above, you are consenting to us sending you relevant information. Privacy Policy | Terms Of Use