What people are saying about our teaching
We get so many testimonials, emails and letters telling us that Bowen and our teaching have played a part in changing their lives – as patients, students and practitioners. We'd like to think it is part of a healing movement.
And apparently you think so too!
What Students and Practitioners are saying
I enjoyed every minute of the class. The class size was perfect for really in depth moving. I cannot wait to practice what I have learned. Dr. Manon is amazing, passionate, fun, outgoing and highly intuitive.
Pamela Bahous  (Lower Body Protocols, Toronto, with Dr. Manon Bolliger.)
This is a great course for anyone interested in healing. The course was fun, educational and insightful. As a massage therapist-in-training, it is a whole new way of looking at the healing process. Bowen is about taking a step back to look at the bigger picture, then with this perspective, focusing in on the actual issue.
Mike Burnett   (Fast Track CBHT – Moncton, NB with Dr. Manon Bolliger)
Awesome. Dr. Manon is confident and easy to follow & understand. Based on the course content and skills learned in a very short time, this course has exceeded my expectations. I would definitely recommend this course to others. In depth information together with an intense hands-on-training has really helped me to understand the technique.
Stacey Kelly (Fast Track CBHT – Moncton, NB with Dr. Manon Bolliger)
Absolutely, I would recommend this course to others! Especially after taking the course 8-10 years ago, I would say that it is of great benefit and keeps me up to date.
I noticed the course materials to be of amazing quality with concise diagrams and aids to help understand the moves/protocols outside the classroom setting. As a student who takes this review after many years, it is great to see how far the course has evolved over time and how it integrates the moves via case study learning.
Take this course if you need a refresher or if you want to stay up to date with clinically relevant information from Dr. Manon's professional practice. It is really a privilege to learn from someone who is dedicated to bringing this treatment modality up to speed with the times while allowing for the natural evolution of Tom Bowen's work.
Bonnie Choing  (Review Class, Toronto, with Dr. Manon Bolliger)
The case stories Manon gave us enriched the learning experience. The protocols were straightforward and easy to learn. The course was comprehensive; it incorporated all the theory and practice necessary to build a foundation for practicing the Bowen technique. Manon has a true gift for sharing and describing the subtle nuances of the body in a way that is easy for a student to understand.
Manon has an innate intuitive healing ability that cannot be taught or learned in a book. She is able to share and transmit some of this ability, which is a powerful component of the Bowen technique.
Mel McLean
Manon's patience and intuitive nature allowed for an amazing learning experience. Her positivity and reassurance inspired me to excel during the Bowen technique course. 
Jennifer Dyck
Manon's extensive clinical experience using the Bowen technique allows for a learning experience that is rich, in-depth and comprehensive. She is tremendously generous with her clinical pearls so that all of her students can benefit from and be successful Bowen practitioners.
Miranda Demierre
Since attending the class I feel like I have eyes in my fingers.  I thank you and my clients thank you!   
M.M
Aside from being a valuable modality for any future practice this has been extraordinarily beneficial for improving my palpation skills.
Monique Hallee
Bowen is something you have to experience in order to understand the brilliance of it. We are missing out on something magical if we don't at least give it a try.
Alice Fung
I have enjoyed doing the course and have gotten so much from the case studies I have done so far. Bowen Therapy is a profession where practitioners can be so relaxed and at peace while doing their job and feel great about quick results their patient can get from therapy.
Serena Broughton
Thanks, this course and Bowen are really great. I am so glad I signed up to take it.
Dr. Kim Masuch, ND
It's (Bowen) gentle yet effective. I felt grounded and really relaxed after receiving the treatment. Would be an excellent and useful tool for ND's. Small class, perfect instructors, clear demonstration, good pace to learn.
Dr. Frances Wand, ND
Love the way it was taught. We got to see it, experience it, do it, teach it. Following that, performing an entire treatment with the pauses really solidified our learning.
Dr. Kim Little, ND
I consider the Bowen Technique to be a blessing in my practice because of its simplicity, results and patient satisfaction.  
Audrey Butko M.D.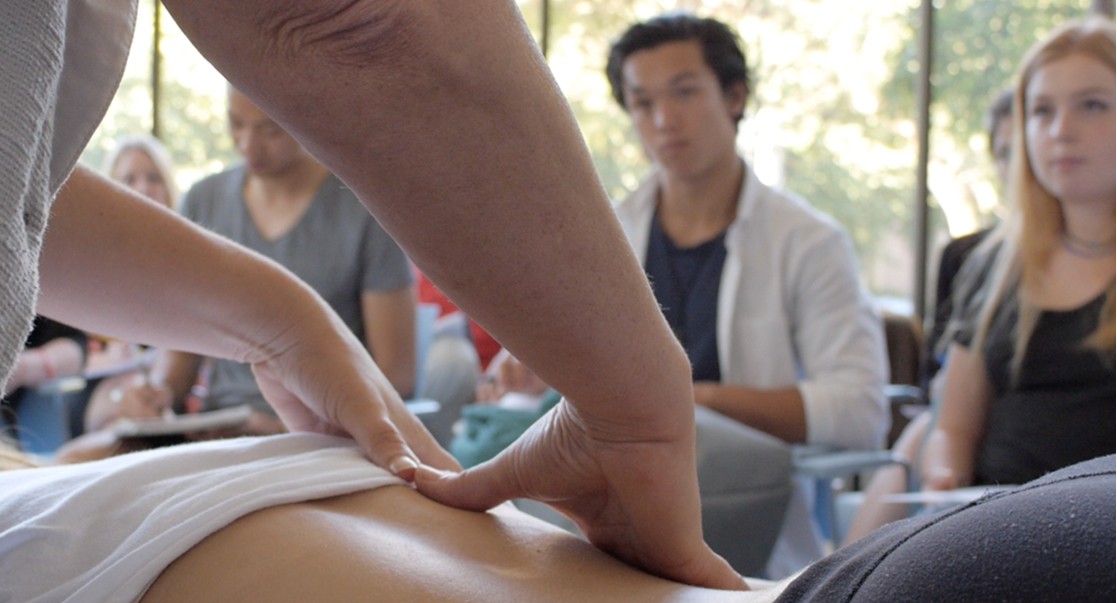 I was facing a hip replacement and back surgery when I discovered the Bowen Technique. After receiving Bowen treatments, not only was I able to walk, but I went back to playing golf… without surgery. I was so impressed that I flew to Australia to train in the Bowen Technique and now treat patients with ailments ranging from bunions to heart disease.
JoAnne Whitaker, M.D.
Although I went into Dr. Bolliger's office two months ago, a sceptic, and not understanding at all what I was embarking upon, today I am able to say that polymyalgia, the short term disease and fibromyalgia, the life sentence, are no longer a part of my life. Thanks to the gentle hands of Dr. Bolliger as she treated my symptoms and her quiet and confident explanation of what she was doing and how it should help me, I am able to confidently say that  Bowen Treatment has proven itself a complete success for me.
Donna Woods
I would say to anyone who has given up finding relief, don't quit yet. Try Bowen! 
John Marshall Jones, Vancouver
I first heard of Bowen Therapy through a colleague.  Since I've been having pain on my right hip and migraine behind my left eye for past several years, I thought why not give it a try. I had three appointments with Dr. Manon and I haven't had any pain since.  I remember during session #2, Dr. Manon asked me to stand up and walk around.  I felt my head feeling really heavy and I could tell my balance was a bit off.  All Dr. Manon did was touched my crown chakra and voila – the feeling was gone!  It was amazing. I believe in what Dr. Manon does and have been thinking about taking some of her course.  I highly recommend Bowen Therapy to everyone. Dr. Manon, THANK YOU VERY MUCH!
Brigitte Relova
For the last three years, I've had chronic pain in my right knee that was at times so bad I had to lift my leg up with my hand to get into my car. Five days after the fourth Bowen treatment with Dr. Manon, the pain is 90 per cent better. It's like a miracle. I've also had numbness in both my feet, which has improved, and I look forward to further improvement as my treatment continues.
Ken Kollman
I injured my tailbone when I was five years old and lived with the pain, thinking nothing could be done about it. I came to see Dr. Bolliger for a completely different problem – my neck – and just happened to mention my tailbone because, as always, it hurt when I sat down. Dr. Bolliger said, "We can fix that." I was really skeptical, but in one single Bowen treatment, with very few manipulations, Dr. Bolliger stopped the pain – for good. The pain was so ingrained that, even now, two years later, I still expect it when I sit down or get up, but thanks to Dr. Bolliger, it's gone!
For twenty years, I had a very bad neck. It hurt and creaked when I turned my head in any direction. Dr. Bolliger's Bowen treatments completely eliminated the problem. Now, two years later, I still move my neck freely. The treatment is so gentle that such dramatic results seem almost miraculous.
Doris Kiernan, Vancouver