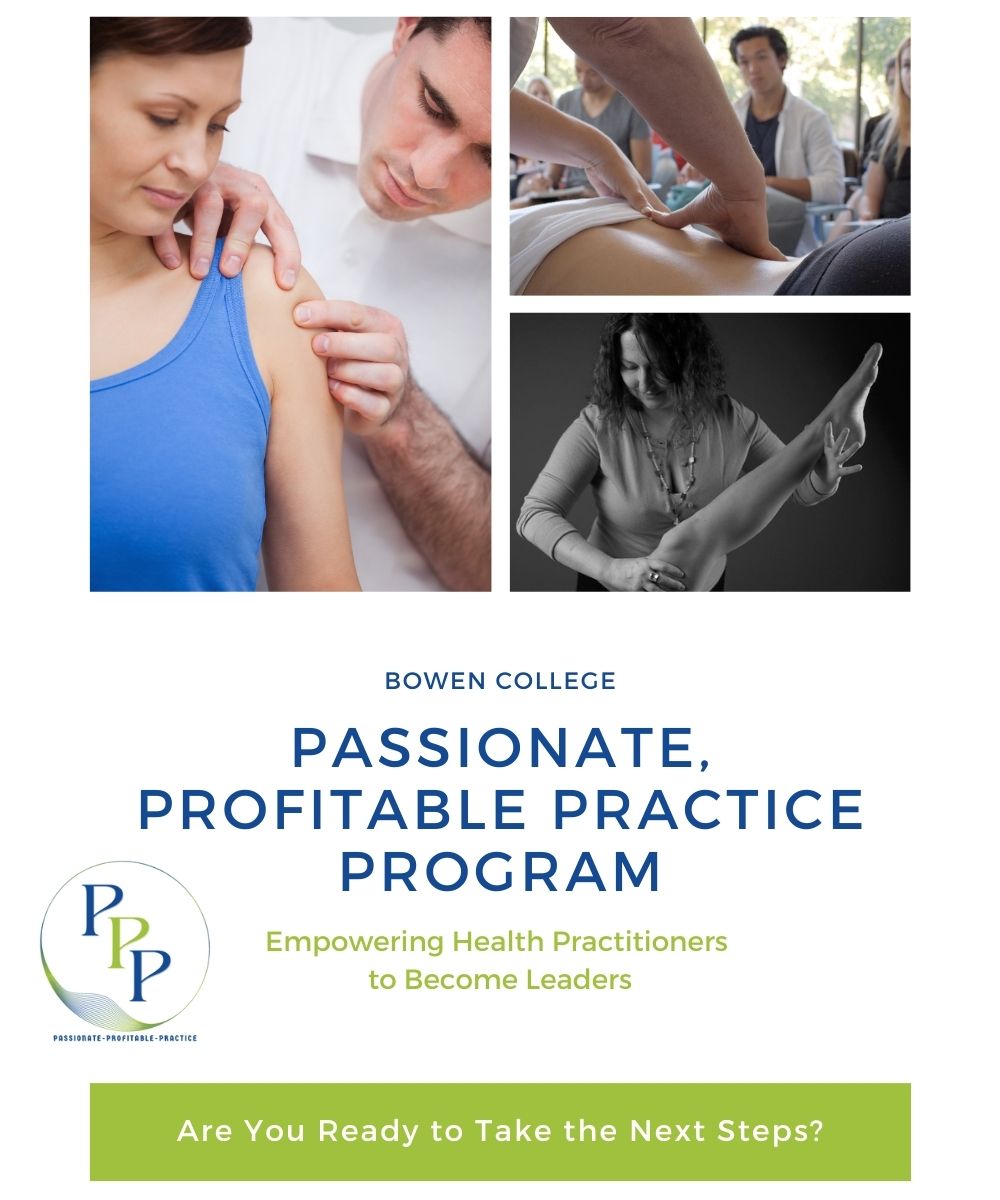 As an experienced practitioner or someone new to the healing arts, you have a passion for helping others heal from pain, trauma, injury, and symptoms of dis-ease. You may even manage and/or own a clinic or home-based business at this time. 
Staying on top of your game helps you do your best work in any industry, but especially one as in demand as natural health. Unfortunately, many healing professionals do not have the expertise to combine the healing arts with business marketing. This can leave them feeling overworked, stressed, and lacking the time needed for their own health and wellness.
The Passionate Profitable Practice Program helps you create the profitable practice you desire while teaching you the skills to help your patients get out of pain faster and bring the passion back into the work you love. 
This program focuses on honing your skills as both a health practitioner and a business owner. You'll learn about marketing, building your presence online, and by word of mouth, and how to engage with your clients to create trusting patient-practitioner relationships so you can become truly fulfilled and in flow with the work you do. 
You'll also learn the most powerful, all-natural, and gentle healing method for treating your clients…BowenFirst™ Therapy.
Each course offered through the Passionate Profitable Practice Program is aligned with the demands of a passionate healing professional and is designed to allow you to focus more on what you do best…healing. 

The Passionate, Profitable Practice Program (PPP) provided by Bowen College* and Manon Bolliger (retired naturopath and facilitator with 30+ years of experience), teaches you the skills and provides you with the tools needed to create the Passionate, Profitable Practice you desire.
Whether new to the healing arts or an experienced practitioner, PPP will guide you through the art of business marketing in the healing space while giving you the skills to become a Certified Bowen Health Therapist (CBHT).
Throughout the 5 Modules of PPP, you will learn the BowenFirst™Technique at your own pace through online workshops, at-home study, videos, and in-person with the support of the Bowen College community and staff. Test your knowledge and deepen your understanding with unit quizzes, track your progress with checklists and personal audits, have your questions answered in real time, and discover how to create a successful practice you are passionate about.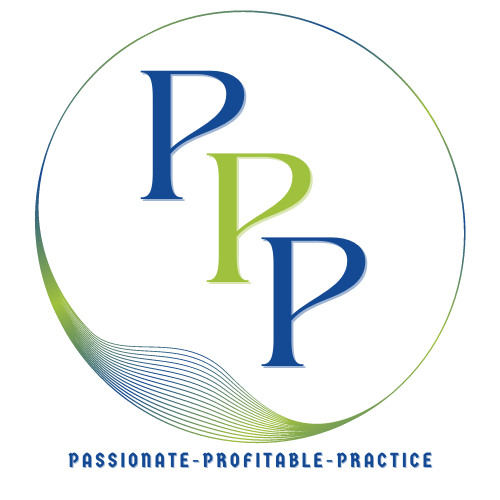 *Bowen College is the only training school for Bowen Therapy in North America, with independent accreditation from the Canadian Examining Board of Healthcare Practitioners and the Bowen Therapists Professional Association (BTPA).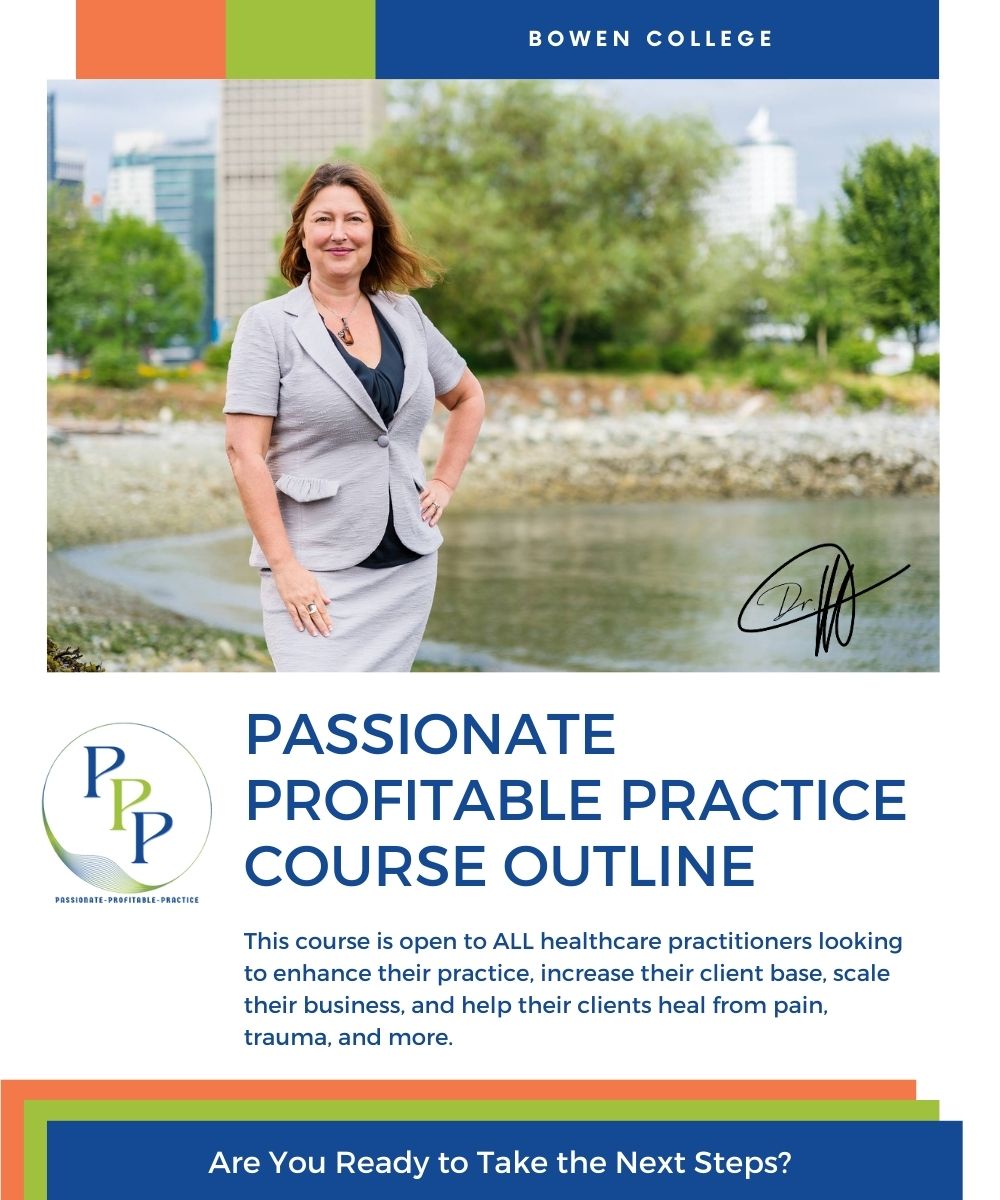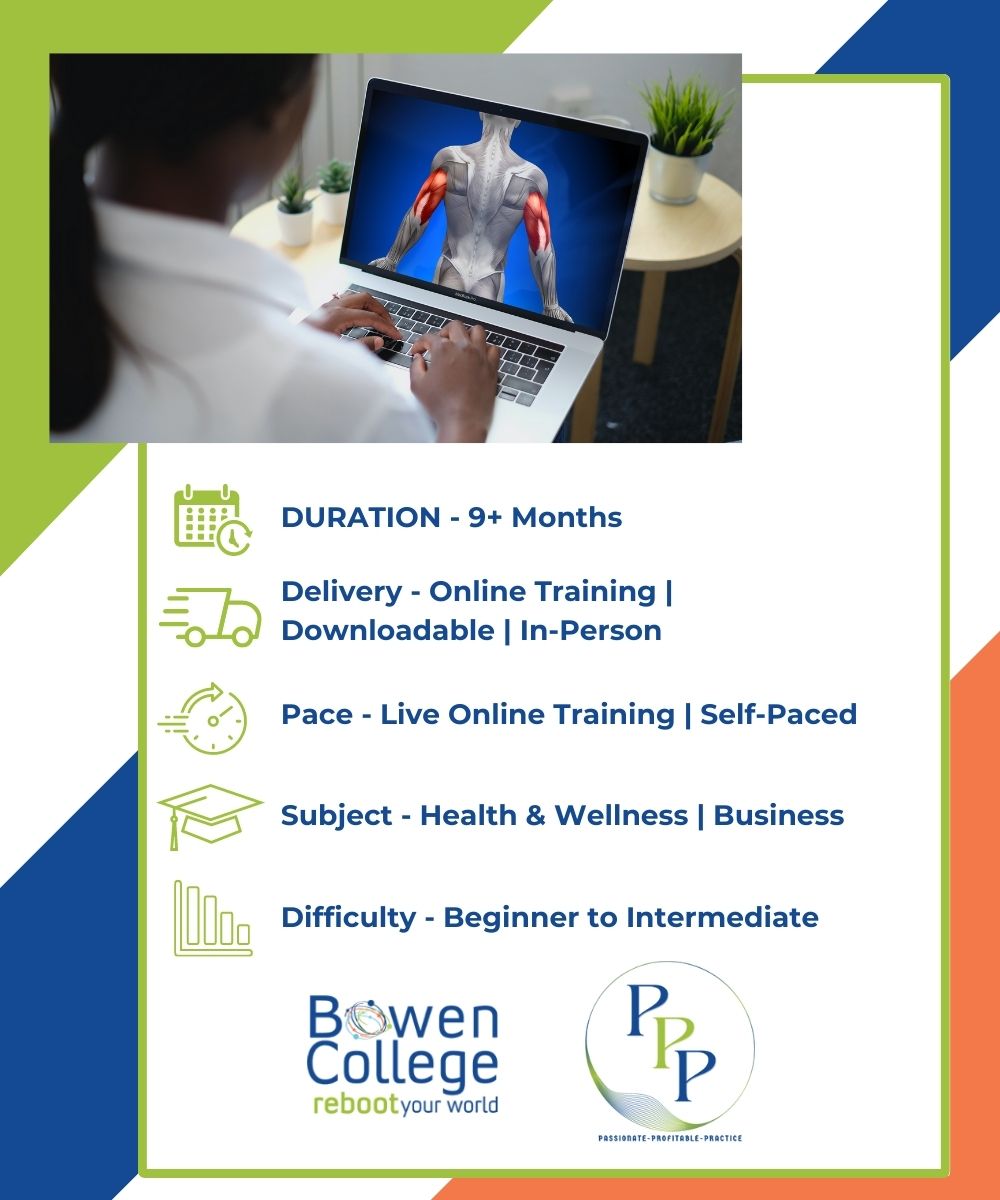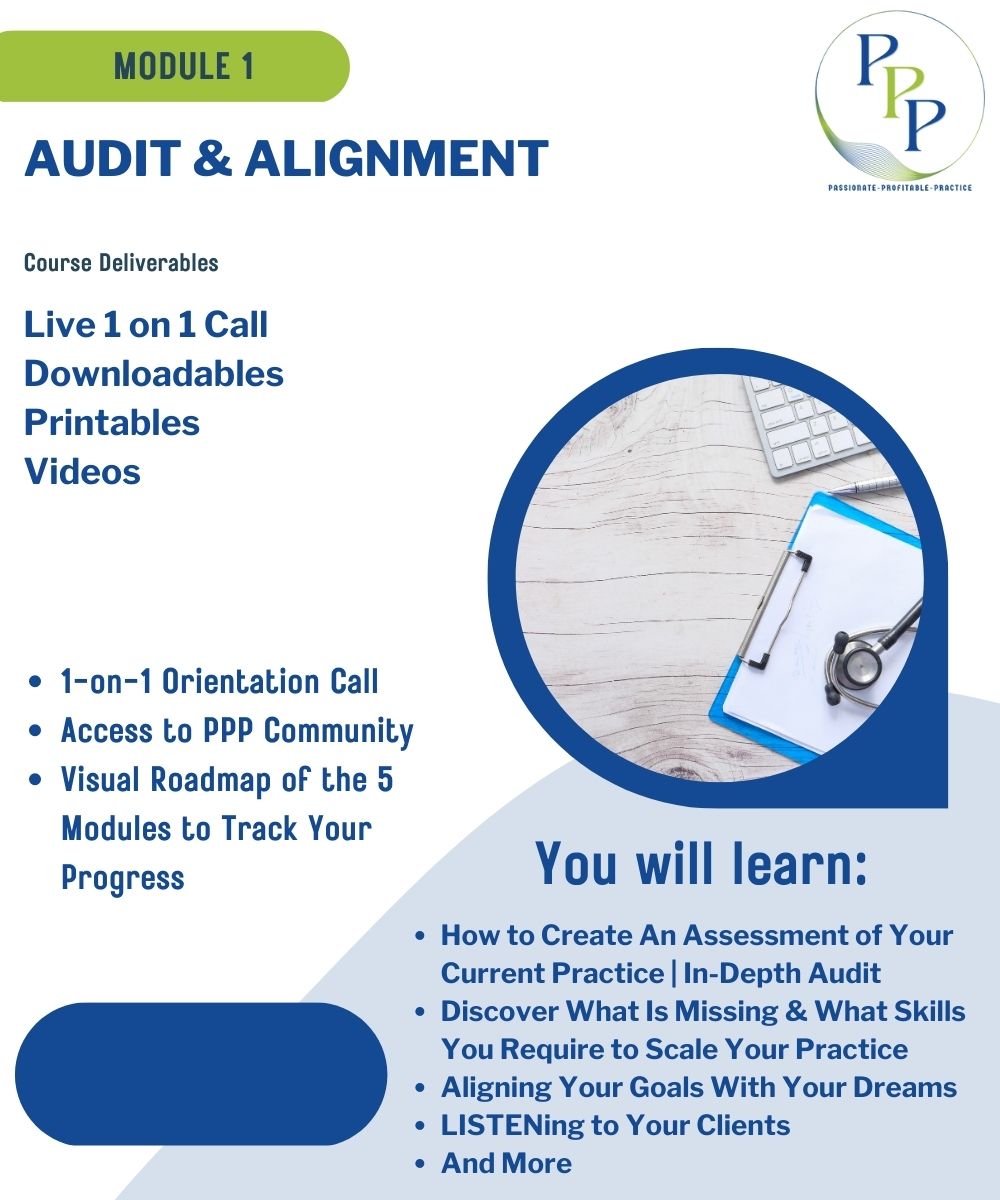 MODULE 1 OUTLINE
Community Support 
1-on-1 Orientation Call PLUS Visual Roadmap of the 5 Modules
Are You Wide Awake Checklist


In this module we are going to take an assessment of where you are currently.  We are going to put you through some exercises.

Learning to Listen Lovingly


A short reminder of the mindset for health you want to share with your clients to help foster autonomy and self-responsibility.

Healing What Is Video


In the next few weeks together we are going through the preliminary steps of the healing process, of course, this can be used for yourself and for the practice you would like to create.  We believe that we are responsible for manifesting our reality and in order to do so successfully, we need to understand our 3 memories.

Blue Mist Meditation
Magnetic Alignment Meditation
Audit & Alignment Module includes the following:
Click Here for Course Description...
Your Body Mind Reboot® Registration
We believe that healing takes place multi-dimensionally, and though the mind is powerful, our connection to the body is essential for overall health and wellness. Register for the next Live Online sessions with Manon to delve deeper into LISTENing to our bodies.
TIPS to LISTEN to Your Body
These short tips email series serves as a reminder of the many aspects we need to consider when looking at the healing process.
Simple Solutions for Stress
This 6 module course will teach you n how to release chronic stress; rid yourself of it's cascading negative effects & deal with pain naturally & effectively    

Many of you might already be in practice and you have other skills that you would like to incorporate into the big picture with BowenFirst™ Therapy – we are going to go through an overview of the basic business mindset needed to create such possibilities.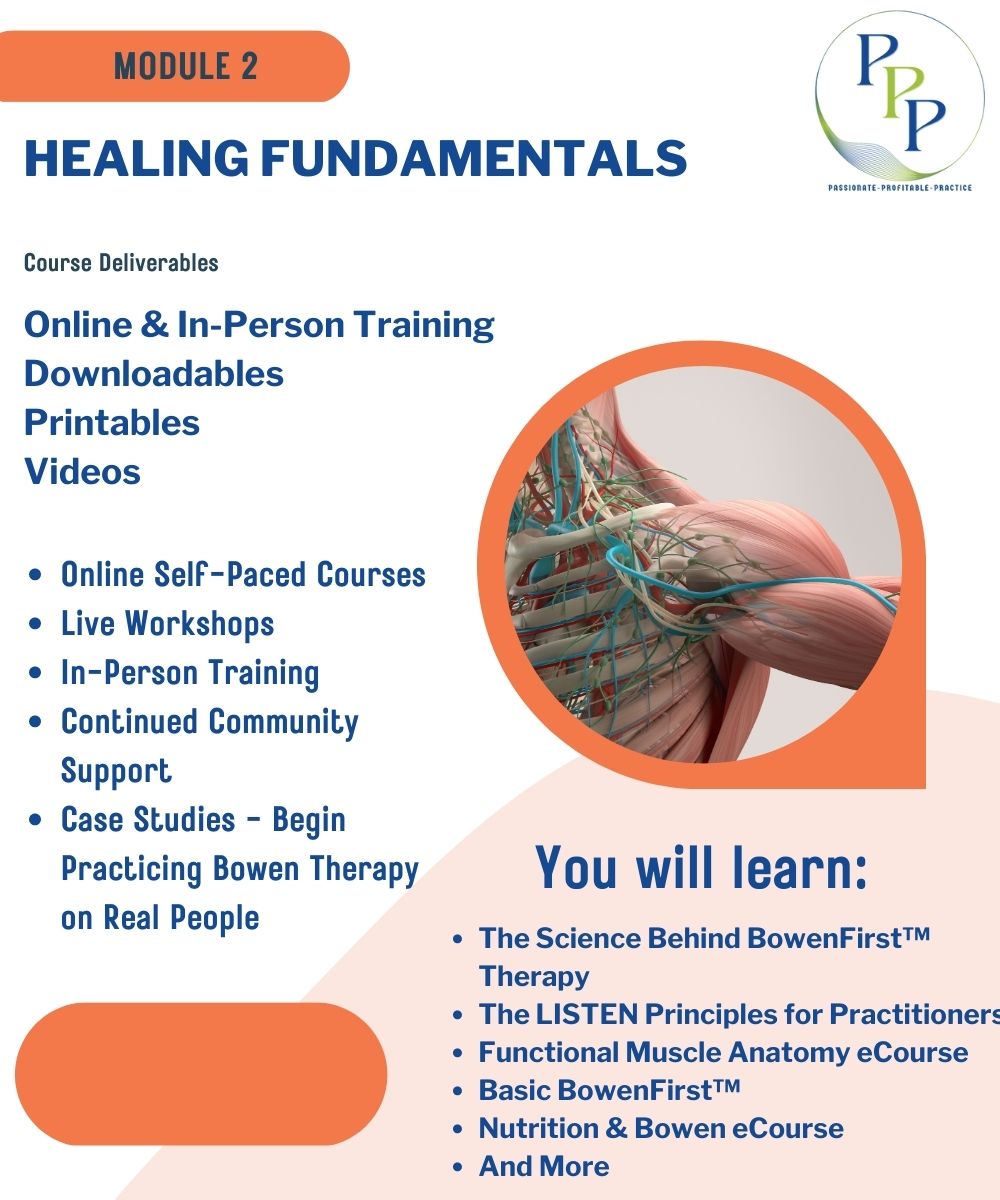 MODULE 2 OUTLINE
What Bowen Is – The Science Behind Bowen Therapy
There are so many myths surrounding touch therapy. From cracking bones into place to kneading the muscles sore, many don't realize that less is more. Understand the science behind BowenFirst™ therapy's gentle, minimalist, and non-invasive process. Discover how powerful the fascia truly is, and learn why it's important to give the body space to heal.
Synergy Dialogues
As sovereign beings, we have every right to heighten our expectations of the dynamic of our health team. The dialogue we have with ourselves, as well as with our key health team members must feel synergetic and aligned.
Innate Healing eCourse  – The Root Causes Process & Removing Obstacles
Many people fear missing out on life because of illness, pain, and fatigue. Often, they become discouraged as they try different doctors and multiple treatments. This course unveils how to get to the root cause so that the clients can take responsibility for their healing journey.   This is the starting point for you and your clients.
Healing Fundamentals Module includes the following:
Click Here for Course Description...
Functional Muscle Anatomy eCourse or PLAR (Prior Learning Assessment Recognition)
This anatomy course teaches the function, origin, and insertion of the muscles of the body. This knowledge assists the therapist in assessing a client's individual needs in order to alleviate health problems, stress, and balance body functions.
Learn how to regulate Stress, Pain, and Reboot Your Whole System.  What if you could offer the basics to your partner and family so that their own bodies could deal with stress, regulate pain and get better sleep?   — Sleep, detox, digestion, reduction of aches and pains 
Double Your Healing Power eCourse – Clear Senses & Healing Frameworks
All healing is self-healing. This module challenges you to think differently about your practice. Through powerful dialogue, practitioners can help their patients take ownership of their own health. It allows you to improve the doctor-patient relationship, so you can overcome patients' most common objections. 
Nutrition & Bowen eCourse
This course introduces the basics of nutrition. It helps you recognize how the diet impacts the client's overall health and well-being. We talk not only about the importance of a balanced meal but also about the psychosocial aspects that determine healthy choices.  It is important to look at all in this day and age, we need to look at everything, we are preparing the student to have an overall holistic overview of the body. 
LISTEN Principles eCourse 
From a Practitioner's view Learn to LISTEN to your clients. It provides a holistic view of how your mind, body, and emotions are linked together. L stands for love, I for Inquiry, S for Symptoms, T for Touch, E for Engage, and N for Now. 
Your Body Mind Reboot – Live Online
Learn to LISTEN to your body's own innate knowing. It allows you to understand your own body, so you come from a place of clarity, confidence, and conviction. Healing yourself allows you to hold space for your clients. 
Healing Accelerator Live 4-Day Workshop (3x)
Turn your self-care into a powerful healing tool. Learn how to heal others by first healing yourself. Learn to let go of your own inner wounds and empower yourself. This workshop teaches you how to serve others without feeling burnt out.Hailed by our graduates as their favorite part of the program, you get to address different conditions and experience the treatment for yourself. This course shows you the practical applications of Bowen therapy for all your patients. Through case studies and hands-on work, learn the science behind it and its many applications.With every session, you are deepening your knowledge and skills and noticing nuances you missed before.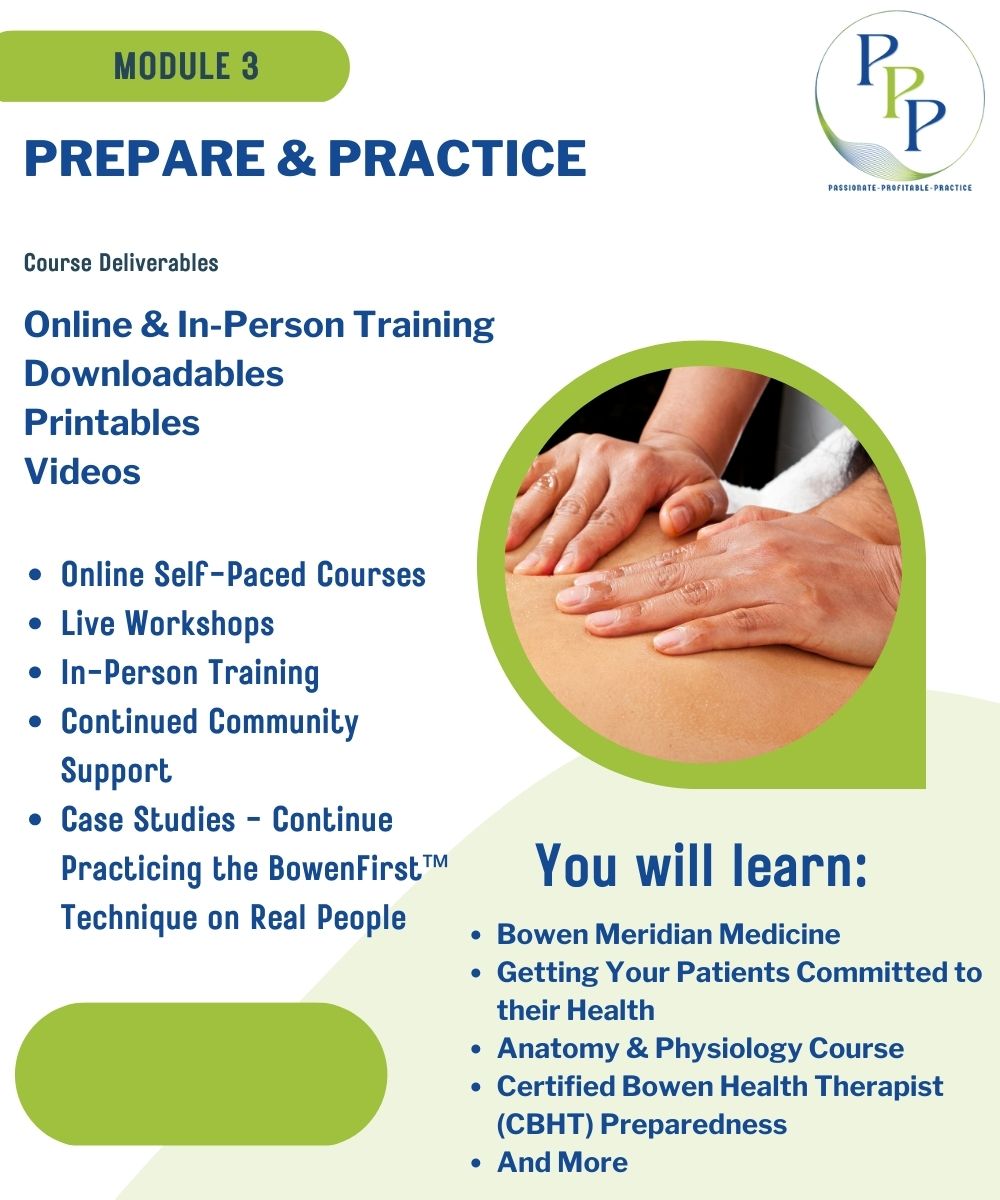 MODULE 3 OUTLINE
Q&A Monthly Calls x12-24 – Live with recordings
Deepen your learning by asking questions on case management with a professional practitioner. Get insights based on real experiences, and gain clarity on topics you need further clarity on. When the session is done, you can replay the live recordings anytime you want.
Bowen Meridian Medicine eCourse
This module introduces practitioners to Traditional Chinese Medicine (TCM). It shows how energy meridians correlate with myofascial pathways. It allows the practitioner to have a more holistic understanding of the health of the patient.
Anatomy & Physiology eCourse
This course focuses on human anatomy in relation to Bowen therapy. Learn about the eleven body systems. Understand how the different muscle groups work with the endocrine system, the respiratory system, the cardiovascular system, and more.
Completion of 20 Case Studies
Prepare, Practice & Certify Module includes the following:
Click Here for Course Description...
Get Your Patients Committed to their Health
This course is designed to change the way you get clients/patients to commit to care, because once they commit to care, the issue about money and concerns about patient retention go away. The real problem facing practitioners today is how do you keep your new patients and how to make them commit to lifelong treatment. It is much harder to keep finding new patients on your own than nourish the relationship with the patients that you have. The truth is that practitioners tend to spend most of their time looking for new clients when if they spent 80% of their time nurturing and making sure that they are giving their patients everything they need, they would be ahead of the game.
Create – Business & Life Coaching (LIVE with Manon Bolliger Bi-Weekly) 
Ready to Create a Life YOU Love & Deserve?WE ARE NOT BROKEN! We just have our wires crossed. We change… we do not not fix: Decisions/beliefs; Associations; Perspective; Emotions; Strategy; Identity; Family.  "When we don't choose for ourselves, we are run by default patterns."
Am I Ready? – Pre-Examination Checklist
As well as
Final Physical & Practical Exam
The Physical exam must be done in person by a BCI Instructor to become a Certified BowenFirst™ Therapist and be eligible to apply to Canadian Examining Board of Health Care Practitioners (CEBHCP) to be a Certified Bowen Health Therapist (CBHT)

MODULE 4 OUTLINE
Online Business Mastery


This program helps you create a dialogue with your client so that you are both clear on the expectations and outcomes. We also look at underlining blocks that keep patients from truly getting what they need.  Thus clearing away the blockages about money, time and other excuses people make.  This way you help them look beyond the diagnosis and create the life they want.  When you build trust, you attract more patients and retain the ones you have, while serving them better.
Introduction to Affiliate Marketing


Teaching you how to make money while you sleep or vacation plus how to get other to promote your products.



Manifesters Intention Meditation


To create something real from your intention, then feel, allow & trust that it is so.
Business Success for Health Professionals includes the following:
Click here for Course Description...
Business Success for Health Professionals
The program teaches you how to earn money doing what you love. Whether you're starting out or you're an expert in your field, this course helps you attract and retain clients. It translates your passion for healing others into practical, actionable, and sustainable business practices. It shows you how to grow your clinic with integrity.
Now that you've finished your training, you're about to venture on setting up your own clinic. This course helps you transition from being a student to a practitioner sharing your gifts with the world.
Intro to Ethical Considerations
 Healing is an intimate practice. That is, your patients often come when they're weak and vulnerable. This can be both on a physical and an emotional level. Your patients trust you with their lives. This course introduces extremely important ethical considerations. By maintaining healthy boundaries, you and your patient can both feel safe and secure.  
The Practice Abundance System
 Many healers' struggles are driven by empathy and service. Because of this, they often struggle to receive. They unknowingly hold on to money blocks. In this module, learn how abundance and success help you serve others. Rewrite the old scripts that are holding you back from growing your business. Learn how nurturing yourself is key to helping others. 
 Join this 5-day challenge, and discover how to optimize your online visibility and gain more clients, so you can focus on your business. Promoting yourself doesn't have to be hard. By making it easy for clients to find you, 
FOUND – Content Visibility
 Do you feel lost in a sea of content? You don't need to spend hundreds of hours writing a blog and doing social media. When done right, you can repurpose articles you already have to maximize your reach. This course teaches you what to focus on, so your content marketing feels effortless. 
 In this workshop, Manon shares the wealth of her expertise based on years of experience. She teaches you real-world skills that you can apply to your own practice.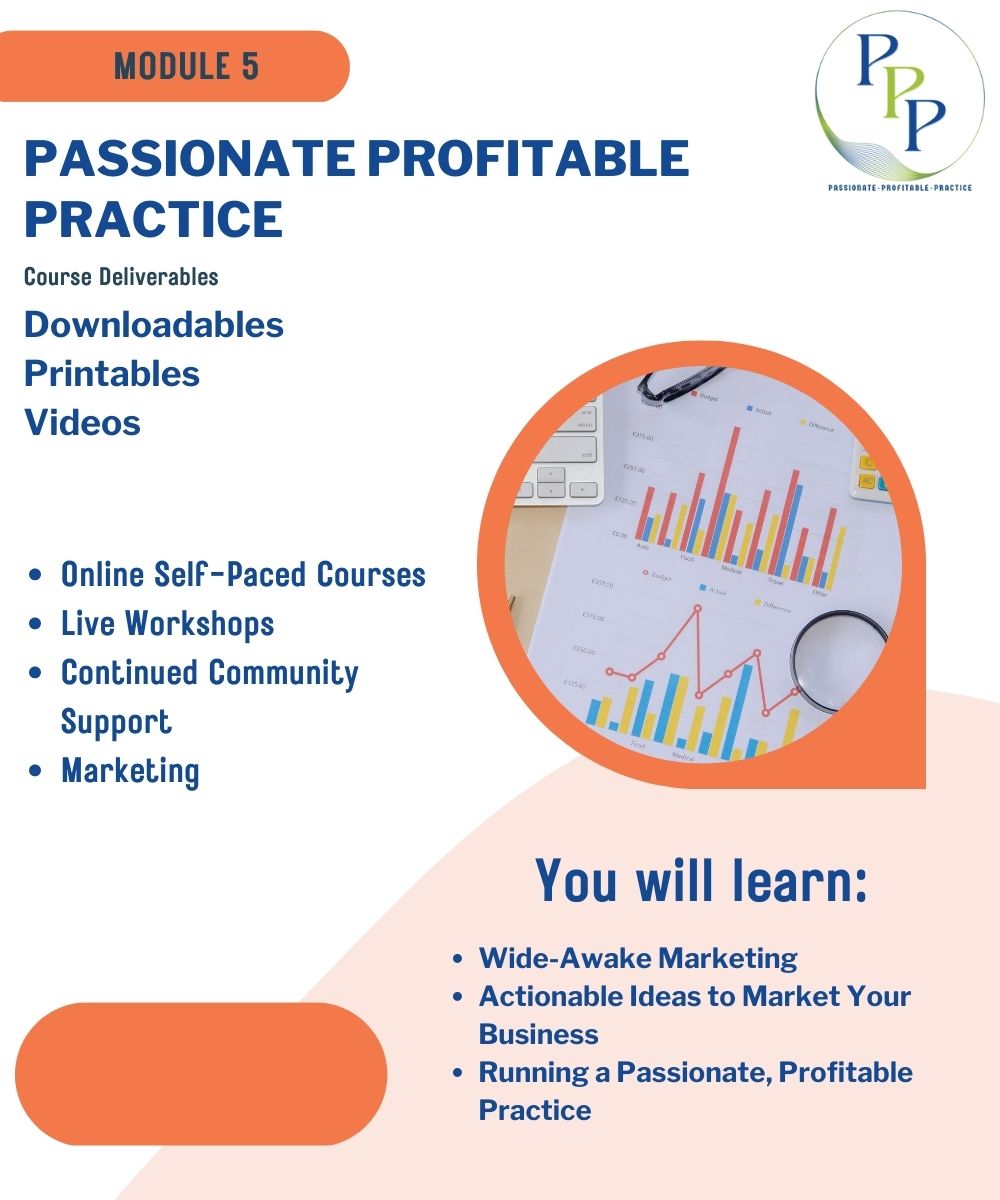 MODULE 5 OUTLINE
This program helps you grow your abundance, so you can give more to your clients. 
Remove subconscious money blocks keeping you from success. 
Gain a crystal clear strategy that's both simple and effective. 
Brand yourself in a way that gains and keeps people's trust in your service. 
Become more visible in your expertise. 
Learn how to gain a larger network and client base. Develop your brand and voice based on your unique strengths and talents. 
Build a lasting impact and legacy as you serve your community. 
Wide Awake Marketing for your Passionate, Profitable Practice Includes:

REVIEWS
The following reviews were collected from past and present students relating to courses 
found in each Module of the Passionate, Profitable Practice Program.
Very empowering program and excellent teachers!"
~Christopher English (Mastermind for Health Professionals)

"The tell-show-do learning format is great – It really allows one to integrate the material well. I would absolutely recommend the course to others."
~Lindsay Adrian (Healing Accelerator)
"Being a BowenFirst therapist has changed my practice and it is the most rewarding work I do. The training is excellent and the community that Bowen College is forming is so supportive."
~Cathy Sevcik (Bowen Therapy Transformation Program)
The case stories Manon gave us enriched the learning experience. The protocols were straightforward and easy to learn. The course was comprehensive; it incorporated all the theory and practice necessary to build a foundation for practicing the Bowen technique. Manon has a true gift for sharing and describing the subtle nuances of the body in a way that is easy for a student to understand. Manon has an innate intuitive healing ability that cannot be taught or learned in a book. She is able to share and transmit some of this ability, which is a powerful component of the Bowen technique.
~Mel McLean (BowenFirst™ Technique)
"I enjoyed every minute of the class. The class size was perfect for really in-depth moving. I cannot wait to practice what I have learned. Dr. Manon is amazing, passionate, fun, outgoing, and highly intuitive."
~Pamela Bahous  (Lower Body Protocols)
Click Here to Read More Reviews...
"Very well facilitated course. If you are looking for an alternative therapy to the usual paramedical therapies,I would suggest delving into Bowen. It may open the door to unexpected healing."
~Naomi Friesen (Basic Bowen Protocols)
"The webinar got me feeling inspired and more excited about my work and what Bowen is capable of.TCM still making my head spin lol but I keep working on it :)"~Chelsey Wing (Meridian Connections)
It's (Bowen) gentle yet effective. I felt grounded and really relaxed after receiving the treatment. Would be an excellent and useful tool for ND's. Small class, perfect instructors, clear demonstration, good pace to learn.~Dr. Frances Wand, ND (BowenFirst™ Technique)
"My experience with Bowen College thus far has been extraordinary. The level of support and encouragement has been outstanding and I love how easy it is to navigate the online courses. The Healing Accelerator Workshops are by far my favourite as Dr. Manon's passion and experience inspires me to continue to learn and grow as a practitioner. Thank you!"~Stacy Sanchez (Healing Accelerator)
"The most powerful message so far for me came in the 'L' unit. Since then, I have found myself asking the potent question of 'Is this loving to myself?' daily. Almost subconsciously, I started to talk to my children in terms of 'is this loving to yourself?' which has already begun to shift how I, and they themselves, view what they say and do. The journey through the Program has been eye-opening in that it has brought me through the entire circle of my belief that 'All you need is love' and reinforced it in many ways. It has given me renewed belief in the power of loving and giving me a clearer vision and perspective."~Jitka (Your Body Mind Reboot®)
"A takeaway for me was the layering of new trauma on similar, pre-existing issues as if the body magnetized like to like."~Madeline McBride (Simple Solutions for Stress)
"Manon's extensive clinical experience using the Bowen technique allows for a learning experience that is rich, in-depth, and comprehensive. She is tremendously generous with her clinical pearls so that all of her students can benefit from and be successful Bowen practitioners."~Miranda Demierre ND (Bowen Therapy Foundation Program)
"Love the way it was taught. We got to see it, experience it, do it, teach it. Following that, performing an entire treatment with the pauses really solidified our learning."~Dr. Kim Little, ND (Healing Accelerator)
"Awesome course! Loren is welcoming and has a clear love for the content and for Bowen itself :)"~Chelsy Arnett (Basic Bowen Protocols)
"Dr. Romi has a way of explaining the complex with elegant simplicity and clarity. If you have been struggling to these concepts,this course may be key to unlocking understanding."~Maria Marchionda (Meridian Connections)
"The course was well paced, very clear, time was taken. I would absolutely recommend the course to others.It may sound cheesy, but this course changed my life."~Tara Lantz (Healing Accelerator)
Manon's patience and intuitive nature allowed for an amazing learning experience.Her positivity and reassurance inspired me to excel during the Bowen technique course.~Jennifer Dyck (BowenFirst™ Technique)
"This is a great course for anyone interested in healing. The course was fun, educational, and insightful. As a massage therapist-in-training, it is a whole new way of looking at the healing process. It is about taking a step back to look at the bigger picture, then with this perspective, focusing in on the actual issue.".~Mike Burnett (Your Body Mind Reboot®)
"Awesome. Dr. Manon is confident and easy to follow & understand. Based on the course content and skills learned in a very short time, this course has exceeded my expectations. I would definitely recommend this course to others. In-depth information together with an intense hands-on training has really helped me to understand the technique."~Stacey Kelly (Healing Accelerator)
I have enjoyed doing the course and have gotten so much from the case studies I have done so far. Bowen Therapy is a profession where practitioners can be so relaxed and at peace while doing their job and feel great about quick results their patient can get from therapy.~Serena Broughton (BowenFirst™ Technique)
"I just love the fascia theory part of the presentation and how the fascia holds trauma and how we can help to release it!"~Stacy Sanchez (Simple Solutions for Stress)
"Absolutely, I would recommend this course to others! Especially after taking the course 8-10 years ago, I would say that it is of great benefit and keeps me up to date. I noticed the course materials to be of amazing quality with concise diagrams and aids to help understand the moves/protocols outside the classroom setting. As a student who takes this review after many years, it is great to see how far the course has evolved over time and how it integrates the moves via case study learning. Take this course if you need a refresher or if you want to stay up to date with clinically relevant information from Dr. Manon's professional practice. It is really a privilege to learn from someone who is dedicated to bringing this treatment modality up to speed with the times while allowing for the natural evolution of Tom Bowen's work."~Bonnie Choing  (BowenFirst™ Technique)
|"It really feels more like empowerment. I think so much of our power is being taken away in our medical system, you know, like something's wrong, I'm broken, I need fixing. Whereas just starting from that point of actually, I'm whole and complete. But I think when you can shift your mind back to that state of empowerment…even what we talked about with intuition earlier, I think it really leads you back to a place of balance, whatever that might look like. And I would just say the thing I really enjoyed about this was doing the cohort and joining the classes and hearing all of your comments, I found that really helpful. I like to hear how other people are processing the information. So I really enjoyed that part of the course too. "~Sarah (Your Body Mind Reboot®)
"I consider the Bowen Technique to be a blessing in my practice because of its simplicity, results, and patient satisfaction."~Audrey Butko M.D. (BowenFirst™ Technique)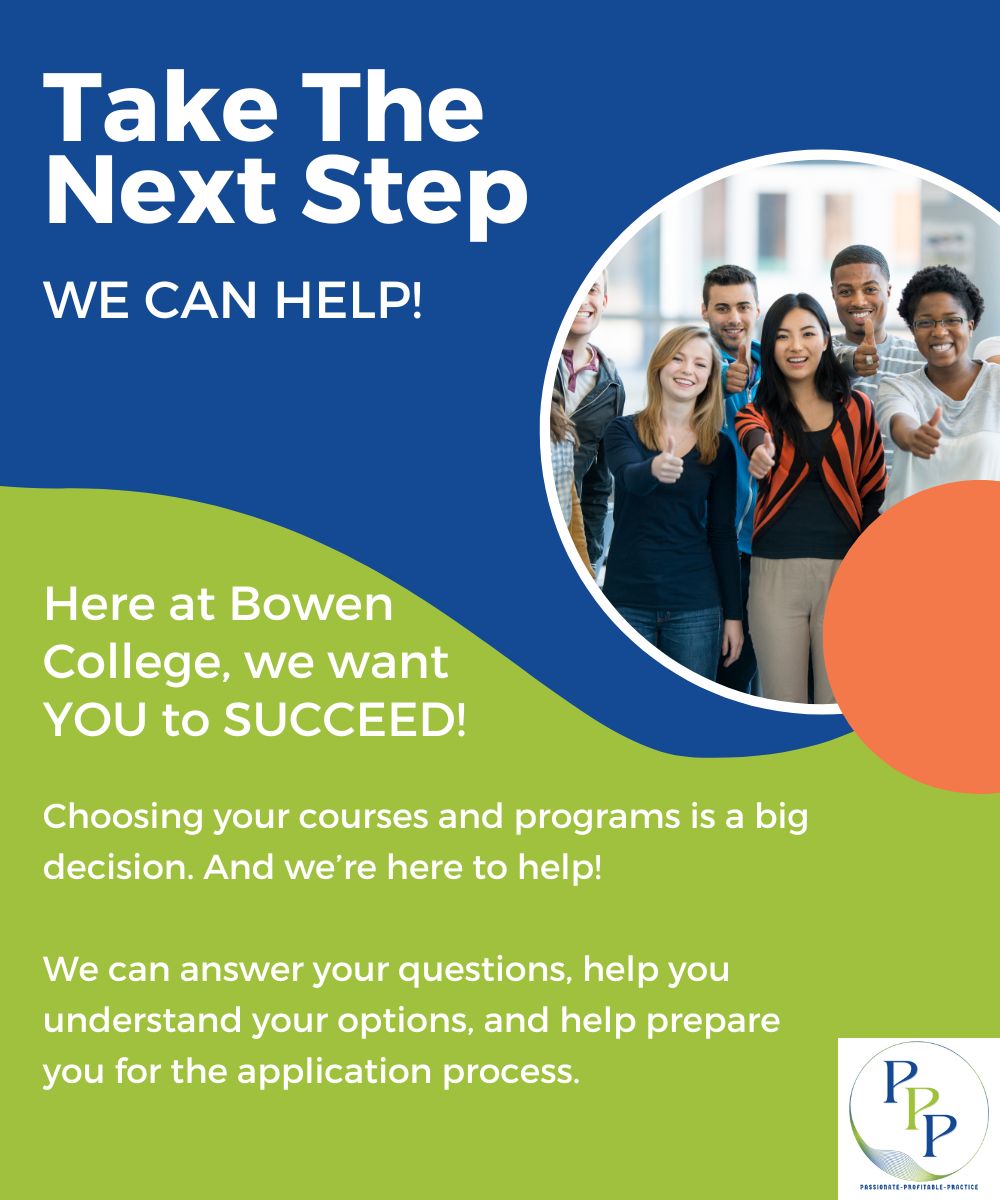 Q. How long does it take to complete the program?
A.  While the entire program is self-paced, a student could reasonably complete the BowenFirst™ Therapy training aspect (Modules 1 through 3) within 9 months to 1 year (depending on their commitment to the program, their schedule, and class scheduling). This would allow them to begin working with patients while simultaneously completing the Wide Awake Business Marketing (Modules 4 through 5) to further their practice.
For every student, the journey is personal and we encourage all prospective students to talk with a member of our team  or registrar to discuss a realistic view of completion and the time you have for study and availability to travel for the practical training portion.
Q. How fast can I recover my costs?
A.  Once you are qualified for Bowen Therapy certification (completion of Modules 1 through 3), you can begin practicing BowenFirst™ Therapy on clients. On average, new practitioners see 2 clients per hour. By committing 5 hours per day at 2 clients per hour, it would take approximately 1 month to recoup your tuition fees for the Passionate Profitable Practitioner Program.
Q. Can I study online?
A.  The bulk of the program can be completed online at your own pace. Further in-person training (case studies, supervised treatments, preceptorship, and the hands-on final exam) allows you to dive deep into BowenFirst™ Therapy as you will have the opportunity to practice and receive Bowen first-hand. Please note in-person training sessions are available at different times and locals throughout the year at the following locations: British Columbia, Ontario, Alberta 
Q. Can I transfer outside credits towards any portion of the Passionate Profitable Program?
A.  Yes. Bowen College accepts transfer credits from a multitude of institutions around the world. Depending on your training background and where you received your training, we honor past practical training in Bowen Therapy toward our certification program. Please book a call  with our team to discuss your current educational training for a full assessment of your needs.
Q. Do you offer Continuing Education credits?
A.  All of our courses are approved for the Canadian Examining Board of Health Care Practitioners (CEBHCP) for continuing education credits. Our hands-on training is also approved by the CMTBC, CMTNL, and CONO.
In the United States, our programs and courses are recognized by the National Certification Board for Therapeutic Massage and Bodywork (NCBTMB) for continuing education. You will need to check with individual boards not listed here to be sure you are approved for credit.
Q. What makes Bowen College's Passionate, Profitable Practice curriculum different than other training?
A.  Bowen College is the only recognized training program for Bowen Therapy as approved by the Canadian Examining Board of Health Care Practitioners (CEBHCP), Natural Health Practitioners of Canada (NHPC), and the International Institute of Complementary Therapies (IICT).
Our training program offers everything you need under one umbrella where your prerequisites, practical training, practitioner development, and business development can be accessed in one institution. The certification program combines practical training with practitioner development unlike any other Bowen Training available anywhere.
Our mission to get healing into the hands of everyone starts with being the best practitioner you can be. We have placed emphasis on the importance of aligning yourself as a practitioner in our training program so that upon completion, you are successful in your practice. Your transition from student to practitioner is an amazing one and we look forward to developing your skills and confidence as a Bowen Therapist and successful clinic owner.
Connect with an enrolment advisor for information about programs and dates, application deadlines, upcoming webinars and events, and anything else to support your next steps to professional health and wellness.
Click the button below to schedule
a call with our team.
* We will not spam, rent, or sell your information; however, by clicking the button above, you are consenting to us sending you relevant information. 
The Bowen College Inc. is an accredited training institution for Bowen natural healing.
This is not a network marketing or a get rich quick business opportunity.
Copyright

2007-2023 The Bowen College Inc | All Rights Reserved | Trademarked