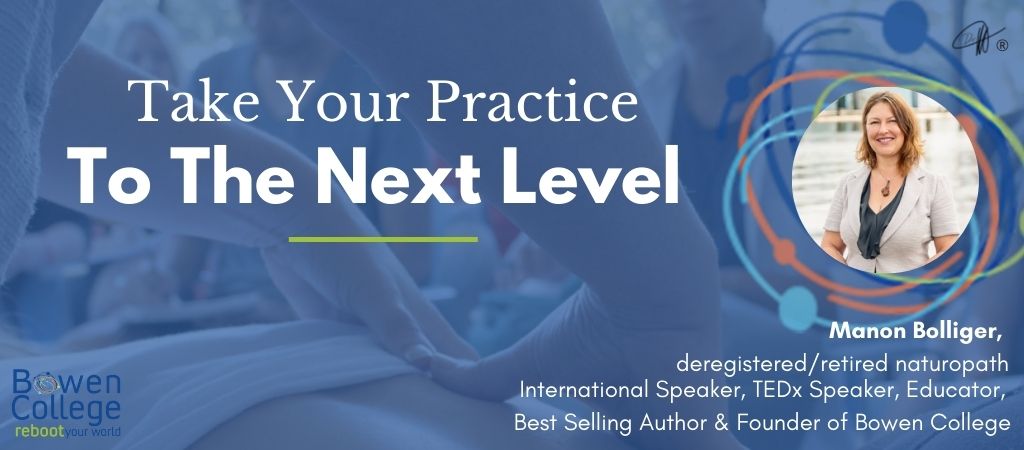 Are you a current health practitioner? Learn how our professional level entry program can take your practice to the next level.
Bring the PASSION and PROFIT back into your practice by adding a new skill plus the business know-how.

Gain the practical know-how to help get patients out of pain faster and easier, while doubling the value of your practice.

Optimize your entire business and scale it to 6+ FIGURE SUCCESS—and transform your practice (and your life) into one you love.

Your professional & educational experience will be recognized.
Are you ready to work & live with purpose & passion? Learn how our accreditation program can take you there.
No experience, no problem – we offer everything you need to excel confidently as a Bowen practitioner.

Flexible programs that work within the scope of your busy lives.

Learn the art & science of Bowen Therapy and its many applications, through guided case studies, online courses and hands-on workshops.
Our community of Bowen Therapists are here to support you along your journey to success.
Learn the art and science of Bowen Therapy
We offer advanced training to practitioners—no matter where you are in the world.
We offer both fundamentals and advanced training on the Bowen Technique. Our standardized training helps you tailor your care on an individual level for each patient.
We don't train you just to become a technician. You're trained as a therapist in the art and science of Bowen Therapy.
"Manon's extensive clinical experience using the Bowen technique allows for a learning experience that is rich, in-depth and comprehensive. She is tremendously generous with her clinical pearls so that all of her students can benefit from and be successful Bowen practitioners."
"Awesome. Dr. Manon is confident and easy to follow & understand. Based on the course content and skills learned in a very short time, this course has exceeded my expectations. I would definitely recommend this course to others. In-depth information together with an intense hands-on-training has really helped me to understand the technique."
"Being a BowenFirst therapist has changed my practice and it's is the most rewarding work I do. The training is excellent and the community that Bowen College is forming is so supportive."
"Very empowering program and excellent teachers!"
Are You Ready to Take the Next Steps:
Step 1  Join our next Healers Information Session to connect with our team.
Step 2  Book a Strategy Session with one of our Passionate, Profitable Practice mentors for an in depth opportunity to craft a vision of your future practice.  (Must attend Healers Information Session first!)
Step 3  You Decide! Are you ready to choose the life you love while running a Passionate, Profitable Practice AND making a BIG impact in your community and the world?
Step 4 We Decide! We accept you into our program & continue to support you through your journey as a healer & Bowen Therapist.